Learn the core languages of the web in Web Design with HTML & CSS
Class Description
If you are ready to learn the languages of all web pages, and move toward a better career, then our Web Design with HTML and CSS class is right for you! This class will start you down the path of becoming a junior level web developer. Full stack and frontend web development begins with the HTML and CSS languages, and you will be guided from the beginning in a hands-on, small class setting by our expert instructors.
In the first part of Web Design with HTML and CSS, you will begin by examining the basics of foundational web technology and create your own functional web pages using the latest specification of Hypertext Markup Language (HTML5). In addition, you will learn how to incorporate style information into your pages using Cascading Style Sheets (CSS3).
Next, you will learn how to create modern web layouts using the latest web development concepts. By the end of this course, you will possess the skills and abilities to make a successful website that will stand out from the crowd and attract visitors.
Last, you will use advanced CSS positioning techniques to improve the site's layout and design, focusing on the latest additions to the CSS3 specification including shadowing, gradients, and much more.
Web Design with HTML and CSS is the first step for anyone looking to add valuable skills to their resume or be able to manage a web-based project of your own.  With so many career paths looking for HTML & CSS skills, let us help you get started with the necessary training today!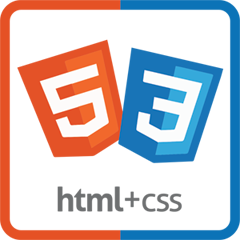 Class Objectives
Upon successful completion of the Web Design with HTML and CSS class, students will be able to:
Week 1:
HTML and CSS basic terminology
Create a functional web page using HTML5 and CSS3
Create a basic webpage layout
Structure content
Apply styles to your page
Navigate through your site by creating hyper-links
Week 2:
Design and develop an advanced webpage
Create intriguing, modern layouts using "div" and "span" tags
Use advanced CSS techniques and shortcuts
Incorporate Metadata and Multimedia
Validate your web page's code
Week 3:
Create advanced styles and page layouts using CSS positioning
Learn the latest CSS3 features including shadows, gradients
Work with HTML tables
Optimize a website for accessibility & search engines
Publish a website
Learn how to use the browser inspect tools (i.e. Mozilla's Firebug)

Class Includes:
21 hours of classroom training | Additional coursework outside of class will be assigned
Professional Textbook
Download materials with practice examples
Free access to CoWorking space on class days (FC Only)
One month of technical support
One year for a free re-take (for attended students of public classes only)
Certificate of Completion

General Info:
Target student: Beginner
Project based assignments and coursework
Computer & software provided in class
Class size limited

Available Public Classes
Schedule/Cost

Wed 1-27-2021
6:00pm - 9:30pm
Mon 2-01-2021
6:00pm - 9:30pm
Wed 2-03-2021
6:00pm - 9:30pm
Mon 2-08-2021
6:00pm - 9:30pm
Wed 2-10-2021
6:00pm - 9:30pm
Mon 2-15-2021
6:00pm - 9:30pm






Streaming Live Online



Price: $1249.00
Space Available(Online): 8 seat(s)
Location: Online

Course Closing Date: 1-25-2021
Instructor(s): Stefano Bossi

Online
---
---
Available Private Training
Digital Workshop Center offers each class in a private, one-on-one format. Private training may be scheduled around your availability and customized to your specific needs.
Consulting allows you to work one on one with your instructor, but does not follow a class curriculum.
If the public class schedule above is not ideal, please choose from the following options: