Take your skills outside in our Outdoor Photography class
Class Description
Ready to capture earths natural beauty? Wildflowers, lush trees, blue sky…you get the picture. Grab your camera and join us in for Digital Workshop Center's Outdoor Photography class. Our Outdoor DSLR photography class combines classroom learning with real-life practice in a gorgeous natural setting.
Our Outdoor Photography class will cover the basics of composition, natural light, exposure, equipment choice and filters for both color and black & white methods. Over the course of this one day class you will discuss topics such as digital post-processing tools, guidelines for approaching wildlife and "leave no trace" ethics.
You will begin class at the Digital Workshop Center and then transition to a local park or natural area. Your expert instructor, Josh Hardin,  will lead students through an easy nature walk, giving photo "assignments" and techniques for students to explore along the way. At the end of the walk students will also participate in an instructor-led constructive critique.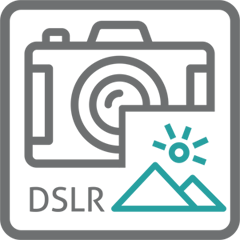 Class Objectives
Upon successful completion of Outdoor Photography class, students will:
Know what camera equipment to use for varying situations
Recognize, capture & take advantage of optimal natural lighting
Creatively explore compositions in variety of natural scenes
Plan a nature or travel photography-oriented excursion
Learn about processing RAW images in Photoshop

Class Includes:
7 hours of training
Professional Reference Packet
Free access to CoWorking space on class days (FC Only)
Complimentary critique from instructor on 10 photos taken during class
One month of technical support
One year for a free re-take (for attended students of public classes only)
Certificate of Completion

General Info:
Locations may require several miles of walking and carrying photo equipment over uneven terrain
Participants must sign a Consent Agreement and Release Form at the beginning of class
Target student: Intermediate
Computers & software provided in class
Class size limited

What to Bring
Equipment:
– DSLR camera with a fully charged battery
– Support hardware i.e. lenses, manuals or card readers may be beneficial but not required
* Familiarizing yourself with your specific camera settings is recommended as the instructor may not be able to review each camera individually
Other:
– Transportation from Digital Workshop Center to each outdoor setting
– A packed lunch.  Additional snacks will be provided.
– Proper attire/items for weather – comfortable walking shoes, jacket, hat, sunglasses, sunscreen, etc…
*Class will only be canceled for weather that is unsafe/unproductive to learning
Training Type
Instructor led, group-paced, classroom-delivery learning model with structured hands-on activities the ability to practice in a beautiful outdoor setting. Available for Private or Group Sessions.
Available Public Classes
Schedule/Cost

Sat 2-27-2021
9:00am - 4:00pm




Live Classes



Price: $298.00
Space Available: 8 seat(s)
Location: Digital Workshop Center - Ft. Collins - View Map
Classroom: Classroom

Course Closing Date: 2-25-2021
Instructor(s): Josh Hardin

Choose Location: Digital Workshop Center - Ft. Collins
---
---
Available Private Training
Digital Workshop Center offers each class in a private, one-on-one format. Private training may be scheduled around your availability and customized to your specific needs.
Consulting allows you to work one on one with your instructor, but does not follow a class curriculum.
If the public class schedule above is not ideal, please choose from the following options: