Learn to manage complex documents in Microsoft Word Advanced
Class Description
Are you ready to become a Word power user?  In Microsoft Office Word Intermediate (Level 2), you learned to create complex documents, but as your documents grow in size you need long document tools to be able to manage them more effectively.  In Microsoft Word Advanced (Level 3), you start to use more valuable features of Word and take your skills to the next level.
Consider that you may be working on a long document which needs a table of contents, index, and footnotes.  The management of these sections is essential to you being able to produce a quality document efficiently.  In this Microsoft Word Advanced class, you will learn the long document features needed to be successful, as well as add valuable skills to your resume.
In Microsoft Word Advanced, we will show you all the tips and tricks of Microsoft Word that can set you apart from your coworkers or other job seekers.  If you're ready for advanced Word training, this class is right for you!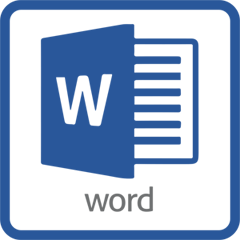 Class Objectives
Upon successful completion of the Microsoft Word Advanced class, students will be able to:
Use Microsoft Office Word with other programs like Excel or PPT
Collaborate on documents with others
Manage document versions
Add reference marks and notes
Work with table of contents, footnotes, index, and more
Make long documents easier to use
Secure a document

Class Includes:
7 hours of training
Professional Textbook
Download materials with practice data files
Free access to CoWorking space on class days (FC Only)
One month of technical support
Certificate of Completion

General Info:
Target student: Intermediate to Advanced
Coursework may be assigned outside of class
Computer & software provided in class
Class size limited
Training Type
Instructor led, group-paced, classroom-delivery learning model with structured hands-on activities.  Available for Private or Group Sessions.
This class is currently offered in a private format. Fill out the form below to discuss options with a student advisor.
---
---
Fill out the form below to request more information about Microsoft Word Advanced Class - Level 3 or to request information on customized individual or group training sessions.