Go farther and be more productive with the Microsoft Visio Advanced class
Class Description
In Microsoft Visio for Beginners (Level 1), you used the various templates to design and manage workflows and flowcharts. Building on the basics, this Microsoft Visio Advanced class will teach you how to enable you to work with many new features, including using the drawing tools, creating and working with custom stencils and templates, and sharing your Visio drawings with other applications.
Each Microsoft Visio Advanced class is customized to your training needs.  Hands-on and always with a live instructor, we want to help you learn the tools that you can immediately apply back at your home or office.
If you are interested in learning about the advanced collaboration and editing techniques available in Visio, then this class is right for you!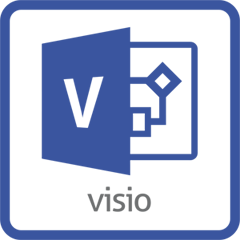 Class Objectives
Upon successful completion of the Microsoft Access for Beginners class, students will be able to:
Create custom shapes and stencils for your process documents
Design styles and templates to help you become more efficient
Design a floor plan
Represent external data in Visio
Share your drawings with others

Class Includes:
7 hours of training
Professional Textbook
Download materials with practice data files
Free access to CoWorking space on class days (FC Only)
One month of technical support
Certificate of Completion

General Info:
Target student: Intermediate
Coursework may be assigned outside of class
Computer & software provided in class
Class size limited
Training Type
Instructor led, group-paced, classroom-delivery learning model with structured hands-on activities.  Available for Private or Group Sessions.
This class is currently offered in a private format. Fill out the form below to discuss options with a student advisor.
---
---
Fill out the form below to request more information about Microsoft Visio Advanced Class - Level 2 or to request information on customized individual or group training sessions.