Learn how to diagram your process with the Microsoft Visio for Beginners class
Class Description
Creating diagrams and charts play a pivotal role in knowledge dissemination, making complex data easy to understand. Microsoft Visio Professional has a host of features that are instrumental in creating visual representations of information.  Learn how to be more productive and efficient in this Microsoft Visio for Beginners class.
Throughout this class, you will work with a live instructor in a hands-on setting to get the training you need. Focused on customized curriculum, we will develop this class to make sure you walk away with real world knowledge you can immediately use at your home or office.
Microsoft Visio for Beginners is a great start to learning how to create better process documents.  Let us help to create a custom Visio class for you today!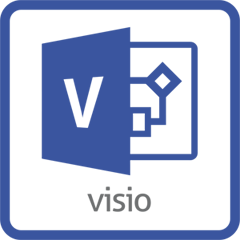 Class Objectives
Upon successful completion of the Microsoft Visio for Beginners class, students will be able to:
Identify the various types of process documents & drawings you can create using Visio
Work with shapes from Visio stencils
Increase your productivity with smart features
Create a flowchart
Create an organization chart manually or generate one from a text file
Create an floor plan to scale
Understand how to create better process diagrams efficiently

Class Includes:
7 hours of training
Professional Textbook
Download materials with practice data files
Free access to CoWorking space on class days (FC Only)
One month of technical support
Certificate of Completion

General Info:
Target student: Beginner
Coursework may be assigned outside of class
Computer & software provided in class
Class size limited
Training Type
Instructor led, group-paced, classroom-delivery learning model with structured hands-on activities.  Available for Private or Group Sessions.
This class is currently offered in a private format. Fill out the form below to discuss options with a student advisor.
---
---
Fill out the form below to request more information about Microsoft Visio for Beginners Class or to request information on customized individual or group training sessions.