Be more productive & collaborate in the Google Sheets Advanced class
Class Description
In Google Sheets Level 1, you became more comfortable with how you can easily convert between Microsoft Excel and Sheets. In our Google Sheets Advanced class (Level 2), you will explore the more advanced functionality of Google Sheets and how it can help you become more productive in your daily work life.
In the Google Sheets Advanced class, you will learn how to utilize advanced formulas and functions, PivotTables, and charts as a spreadsheet power user. Using real-world examples of collaboration and editing, we will walk you through the advanced features of Sheets so that you can tap into the Google Apps for business tools in more depth. Find out why Google Sheets has become a rival to Microsoft Excel for spreadsheet users of all skill levels!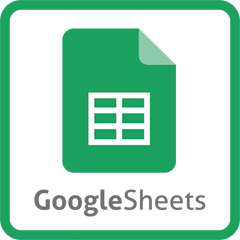 Class Objectives
Upon successful completion of Google Sheets Advanced class, students will be able to:
Use advanced formulas and functions
Organize worksheet and table data using various techniques
Create and modify charts
Analyze data using PivotTables, Slicers, and PivotCharts
Insert and modify graphic objects in a worksheet
Customize and enhance workbooks and the Google Sheets environment

Class Includes:
7 hours of training
Professional Reference Packet
Free access to CoWorking space on class days (FC Only)
One month of technical support
Certificate of Completion

General Info:
Target student: Intermediate
Coursework may be assigned outside of class
Computer & software provided in class
Class size limited

Training Type
Instructor led, group-paced, classroom-delivery learning model with structured hands-on activities.  Available for Private or Group Sessions.
This class is currently offered in a private format. Fill out the form below to discuss options with a student advisor.
---
---