Learn to make presentations with an impact in our Prezi for Beginners Class
Class Description
In today's work environment, presentations have moved far beyond flip charts and overhead projectors. Audiences not only expect that your presentations are in electronic format, but they also demand that your presentations be unique and sophisticated. In our Prezi for Beginners class, you will work closely with one of our expert instructors to create impressive electronic presentations with Prezi. This software has the capabilities to create dynamic, engaging presentations that resemble more of a cinematic format than other presentation applications.
Prezi Presentations for Beginners is customized to you and your group's specific needs. Available for all skill levels, this class is offered in a hands-on, instructor-led setting, you will work in-person or online to get the exact training you need to be successful with the program.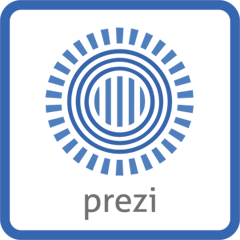 Class Objectives
Upon successful completion of the Prezi for Beginners class, students will be able to:
Explore the interface
Create/enhance a basic presentation
Use the built-in tools to insert files and set a path
Navigate between edit & present mode
Collaborate with others
Import PowerPoint presentations
Publish and embed presentations

Class Includes:
3 hours of training
Professional Reference Packet
Free access to CoWorking space on class days (FC Only)
One month of technical support
Certificate of Completion

General Info:
Target student: Beginner
Computer & software provided in class
Class size limited
Training Type
Instructor led, group-paced, classroom-delivery learning model with structured hands-on activities.  Available for Private or Group Sessions.
This class is currently offered in a private format. Fill out the form below to discuss options with a student advisor.
---
---
Fill out the form below to request more information about Prezi for Beginners Class or to request information on customized individual or group training sessions.