Go farther with your reports in Crystal Reports Advanced
Class Description
If you have completed Crystal Reports Level 1 to build and modify basic to intermediate reports, you may find that you want to use the advanced functionality of the application to go even farther.  Upskill your report writing by learning how to work with custom fields, parameters, and advanced variables in the Crystal Reports Advanced class (Level 2), you can take your reports to the next level!
In Crystal Reports Advanced, you will create complex reports using the specialized tools designed to make your workflow more productive and efficient. You will not only create more sophisticated reports including sub-reports and cross-tabs, but you will also increase the performance of the report itself.
Each Crystal Reports Advanced class is taught by a report expert who will customize this class to your real world needs.  The class will be kept small and hands-on so that you walk away with the information you need and can apply immediately.
Find out more about Crystal Reports Advanced classes today!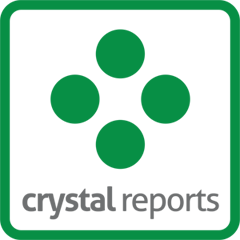 Class Objectives
Upon successful completion of the Crystal Reports Advanced Class, students will be able to:
Implement automatic & manual running totals
Analyze your data with cross-tab reports
Include subreports
Design multi-level, custom drill-downs
Use complex formulas in your reports
Add simple charts
Improve the functionality and formatting

Class Includes:
7 hours of training
Professional Textbook
Download materials with practice data files
Free access to CoWorking space on class days (FC Only)
One month of technical support
One year for a free re-take (for attended students of public classes only)
Certificate of Completion

General Info:
Target student: Beginner
Coursework may be assigned outside of class
Computer & software provided in class
Class size limited
*It is also recommended that you have the Crystal Reports software before starting class.  You can purchase the software or obtain a trial from CrystalReports.com.
Training Type
Instructor led, group-paced, classroom-delivery learning model with structured hands-on activities.  Available for Private or Group Sessions.
This class is currently offered in a private format. Fill out the form below to discuss options with a student advisor.
---
---
Fill out the form below to request more information about Crystal Reports Advanced Class - Level 2 or to request information on customized individual or group training sessions.