Microsoft Visio Classes
Learn Microsoft Visio
Why Should I Take This Class?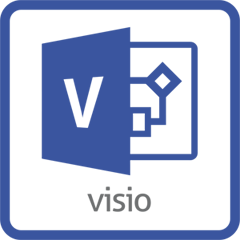 If you want to create an office layout, a business process diagram or an organizational structure, then Microsoft Visio classes are right for you.
Visio is a diagramming tool that can be used to visually communicate technical as well as non-technical representations of ideas, processes, concepts, structures, layouts, software models, blueprints, etc. Microsoft Visio eliminates the laborious process of creating diagrams by providing the tools to create complex diagrams in a user-friendly manner.
Microsoft Visio classes at DWC will teach you how to extend the software beyond the basics and visually represent any business process. All of our Microsoft Visio classes are kept small and can be customized to your exact business process.
Custom examples can be used during the class and for practice. Live training at Digital Workshop Center means you will work with a live instructor and take you from beginner to expert in no time.
Upon completion of our Visio training, you will be ready to design business process diagrams confidently. All of our hands-on Visio classes include a professional Visio textbook and one month of technical support.
What Skills Will I Gain From This Class?
When you complete Visio training, you will be able to:
Visually represent any business process
Create a complex map with ease
Design an organizational chart using Visio tools
Add custom images and objects to your Visio projects
…and more!
How Do I Get Started?
Click a class title below to view schedules and register.
Questions? Contact us at 970-980-8091.
Level 1 - Microsoft Visio for Beginners Class
View Schedule →
Live - $509
Learn how to create diagrams and charts using the core features of Microsoft Visio
Level 2 - Microsoft Visio Advanced Class
View Schedule →
Live - $509 | Streaming - $519
Work with many advanced features, including using the drawing tools, creating and working with custom stencils, and sharing your Visio drawings with other applications.