Crystal Reports Classes
Learn Crystal Reports
Why Should I Take a Crystal Reports class?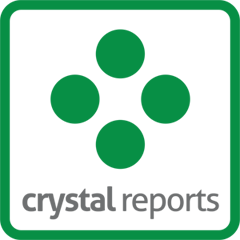 Get started with Crystal Reports classes and tap into one of the most powerful reporting tools on the market. Crystal Reports is a popular Windows-based report generation program that can create reports from a variety of data sources with a minimum of written code.
This application can synthesize data from multiple databases into one report: a highly useful analysis tool for data coming from different sources. Digital Workshop Center is one of the ONLY training centers in Northern Colorado to offer extensive training on Crystal Reports.  You will leave each of our Crystal classes with the ability to generate powerful reports from any data source.
All of our Crystal Reports classes include: a professional textbook, downloadable practice examples and one month of technical support.  These classes are taught by a local Crystal Reports expert and you will work in a live setting to get all of your questions answered in real-time.
Custom and private training options are also available.
What Can I Create?
When you complete our Crystal Reports classes, you will be able to:
Create dynamic reports and customize the data
Connect to any data source
Use formulas for filtering data
Personalize your reports with graphics
How Do I Get Started?
Click a class title below to view schedules and register.
Questions? Contact us at 970-980-8091.
Level 1 - Crystal Reports for Beginners Class
View Schedule →
Live - $1029 | Streaming - $1029
Report building and report processing techniques with a slew of features that add value to your presentation.
Level 2 - Crystal Reports Advanced Class
View Schedule →
Live - $1029 | Streaming - $1039
Enhance your professional reports with advanced Crystal Reports features